I received my Illamasqua parcels few days ago.
Would like to share with you my thoughts about this brand.
I waited 10 days to get them(international shipment).That's quite nice.
Here is my order:
Lipstick - Fetish
Lipstick - Sonnet
Intense Lipgloss - Besotted
Intense Lipgloss - Mistress
Intense Lipgloss - Fierce
Powder Blusher - Disobey
Illuminator - Poised
Light Liquid Foundation - LF215
Loose Powder - LP005
Satin Primer + SPF 20
Here are some pics/swatches/ingredients of
Matt Primer
.
I was thinking about contact Illamasqua about this product.It smells so,so,so bad I can't stand it on my face.Satin Primer is OK,and I think that probably they should smell the same.Anyone has the same issue?
Satin Primer
I tried it couple of times on my cheeks.It doesn't have that silky texture(nor do Matt Primer) as I thought it would.It feels like a moisturizer,but stickier.I use it only on my cheeks since I have oily skin.I still have to test it,so than I will do full reviews.Love the SPF 20.
Light foundation
When I saw how it looked,I thought no way this is gonna match my skintone.
But it did.Eventough it looks a bit orangey,too warm and yellow for my skintone,it blends quite nicely.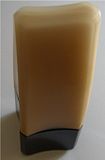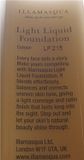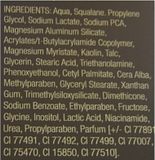 Loose powder
I heard some nice thinks about Illamasqua powder.Since I wasn't sure which shade should I get,I order 005.It doesn't brighten my skin like I heard.But,I don't have light skintone.It's so soft,it gives a nice finish and you don't look too powdery.On my skin,it is transparent.It comes with cute sponge.
Powder Blush
I love it.I order shade Disobey.On my pic it's a bit too yellow.In real life,it's more brownish.
I use it for contouring.It's just the right shade,not too dark.It's matte,texture is unbelivable soft,it's so easy to blend.
Lipstick
I order 2 shade.Fetish is more purple in real life.It's soft,creamy and just amazing for your alter ego :)
Sonnet is peachy/nude lipstick.Don't like the texture of this.It's not as creamy,don't stay as long as I wanted to.
Intense lipgloss
I love it.They are not too sticky,glossy enough,soooooo pigmented.
Illuminator
Swatch of illuminator above.
It's pinkish illuminator with a lot of shimmer,not glitter which is nice.You need to blend this really fast,since it dries pretty fast.You can use it as a lipgloss to add some shimmer,or over the lipstick.You can use it as a higlight if you like pink tones for that purpose :)
All in all,I would definatelly like to try more products of this brand.Love the packaging,colour choice,customer service,pigmentation.Yes,they are expensive,but I think it's worth it.I think about ordering more lipglosses and blushes :)
Only thing I don't like it smell of Matt Primer,but as I said,I will contact them,Maybe it's just mine :)
Xoxo