For hot summer days,Thermal Water is must have.
Both Avene and Vichy are really good.
Here are few photos: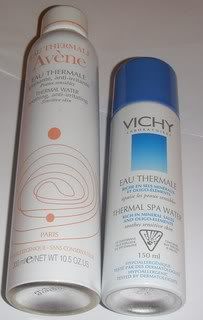 Avene close up
Vichy close up
Vichy claims that after Thermal Spa:
'Skin is reinforced, comforted, and instantly soothed. Helps reinforce the skin's natural protective function'.
Avene claims:
'Avene Thermal Spring Water features a unique composition which soothes, softens and restores skin's natural balance.Clinically proven by over 300 studies to calm, soothe and soften the skin and restores skin's natural balance. It has been used since 1743 in Avene's Hydrotherapy Center to treat serious dermatological conditions such as atopic dermatitis, psoriasis and eczema'.
Both of Thermal Waters are really good.They calm and soothe your skin,great if you have problems like burning,itching,atopic dermatitis, psoriasis and eczema,great for all skin types.
Personally,I prefer Avene.It makes my skin more soft and the smell is better than Vichy.Not that they smell so bad or so good,just Avene has fresher scent.And I really like that.Vichy is more salty.Somebody prefers that :)
Also,I like the Avene huge package of 10 oz.It saves you money :) but I also like baby packaging.It's so small,it can fit in purse so you can take it with you and it's great for travelling.
Usually,I use it after removing makeup,after exercice,to set my makeup or just to refresh my skin.Great for sunburn if you were at the beach too long :)
Vichy comes in
5.3 oz.($11.50)
and
1.69 oz.($7.50)
.
Avene is available in
50 mL, 1.76 oz ($7.00),150 mL, 5.29 oz.($11.00)
and
300 mL, 10.58 oz.($16.00)