I found that the easiest and quickest way to clean makeup brushes is with MAC Brush Cleanser.
All you need is Cleanser,clean towel,dirty brush and couple of minutes of your time.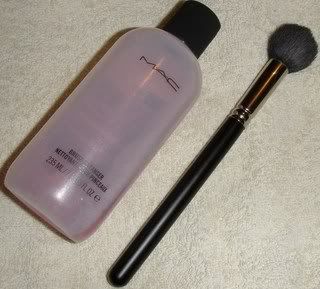 I put a 2-3 drops directly on my brush.Some people put cleanser on towel and it works too,just you lose so much product doing that.The cap of this cleanser isn't that great,it dispenses a lot of product,so if you have some spray bottle,pour the MAC one in it and it will save you some product.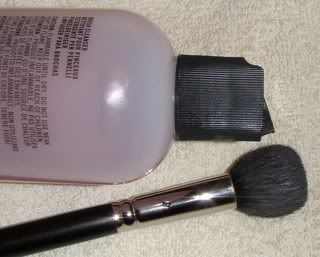 Don't move your brush in circle,use back and forth motions.Be gentle to your brush,you know that it's expensive.
Here is one gross,but effective picture.You don't want all this dirt on your face,right? :)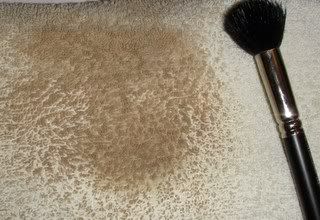 Try to 'spot' clean brushes oftenly ,especially the ones used for foundation.You should do it daily,especially if you have acne-prone skin.
And once a week,give your brushes a full wash treatment :) Use some gentle shampoo and water.
Tip:If you want to clean brushes which were used for fluidlines,any gel liners,concelears,or anything with that kind of consistency,before you wash your brushes,use a 2-3 drops of olive oil.After you clean them with oil,continue as usual.
MAC Blush Cleanser(
$11,00
).